USA, Connecticut, Norwalk
March 2003: Circle in river ice
On March 11th 2003 an Ice Circle or Ice Ring appeared in a private residents' back yard pond in Norwalk, Connecticut,
USA. Precisely etched into thin ice, about 1/4 inch thick, about twenty six feet in diameter. It formed during the night,
in a section of a tributary that feeds the Silvermine River in Norwalk, and amazingly, formed a "tangent" with the pond
wall! The ice-circle formation was discovered by the owner of the property at about 6:00am, after night temperatures
fell to about 16 degrees Fahrenheit, the circle remained frozen until later that afternoon, melting only after most of the
ice around it had disappeared.
Apparent in the photograph, and affirmed by the pond owner, the ice showed no sign of having been swirled by rotating
water that froze. No trees overhung the Ice Circle, and nothing unusual was reportedly heard or seen by the residents,
or neighbours, in association with its creation. The pond belongs to the owner, is in his backyard... and they have a dog
that usually barks if something's in his yard.

Source: http://www.cropcircleanswers.com/Icecircle_2003.htm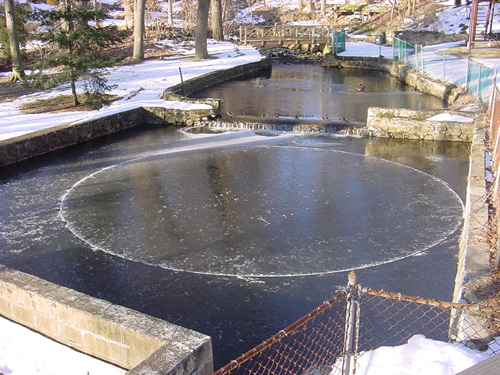 USA Norwalk, Connecticut, found in a private residents backyard March 11th 2003 © Millennium Research
---
© Norwegian Crop Circle Group